Thursday, 7 July 2016

/ 2 Comments
Monthly Round-Up - June
June wasn't a great month on a personal level, so not much blogging got done, and I only read 10 books for the month. I did post some reviews and features over on Reading Lark, but this little blog got neglected, something I'm going to try and remedy this month.
Here are the books I've read this month with ratings and mini-reviews.
Books read (with mini-reviews):
Alive
by
Vanessa Garden
My rating:
4 of 5 stars
I really enjoyed this and
reviewed it over on Reading Lark
. I'm looking forward to the second book to see what happens next.
Breathing Under Water
by
Sophie Hardcastle
My rating:
4 of 5 stars
So beautiful. An exploration of grief and loss, self destruction and finding a way to move on. Full review to follow closer to release.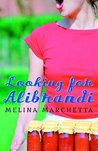 Looking for Alibrandi
by
Melina Marchetta
My rating:
5 of 5 stars
This completely passed me by when it came out, which is a great shame. I was 17 when it was published and really could have done with reading it then.
Now, I've spent the last few chapters sobbing.
This book should be a rite of passage for Australian teenagers, no matter their cultural background. It is as applicable today as it was 20 years ago. My
full review is here.
Take You Apart
by
T.J. Spade
My rating:
4 of 5 stars
This is a police procedural with a dash of the supernatural and a whole lot of romance. I found some of the violence a little much to deal with, but I really enjoyed the story and although it's the first of a series, the ending is wrapped up nicely and doesn't leave you hanging. The sequel is out now, keep an eye out for it.
The Blood in the Beginning
by
Kim Falconer
My rating:
4 of 5 stars
This was really different. Ava Sykes is a bouncer living in post-earthquake LA. Much of the city as we know it is underwater, and those who survived are coping with a lack of resources and housing. Ava discovers that there is an underworld run by vampiric merpeople, and she's much more closely connected to them than she'd like. Trusting the wrong people could get her killed, and there's a serial killer on the loose who wants her to be his next target.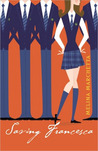 Saving Francesca
by
Melina Marchetta
My rating:
5 of 5 stars
Another wonderful book from Melina Marchetta, and another one I should have read years ago. Francesca is one of a group of girls who has started at a formerly all boys' school in Sydney. The girls' reception isn't as warm as they might like, and Francesca resents being separated from her friends, who have all gone to a different school. Her mother is suffering from depression, and how the family deals with this is a big part of the story. Francesca finds friends in unlikely places and learns to see herself without her friends acting as a mirror.
Ruined
by
Amy Tintera
My rating:
5 of 5 stars
Thoroughly enjoyed this. Em poses as Mary, bride to Casimir, in order to exact revenge for the destruction of her family and her kingdom. The
full review is on Reading Lark
.
Whisper to Me
by
Nick Lake
I don't know what I feel about this book yet. I need to process it a bit. A full review will follow. I don't even know how many stars to give it yet.
You Know Me Well
by
Nina LaCour
and David Levithan
My rating:
4 of 5 stars
Two people run into each other on the first night of Pride in San Francisco and become firm friends. The week that follows binds them together as best friends. This is a celebration of being young and free to love, and eventually marry, whoever you want.
Girl Out of Water
by
Nat Luurtsema
My rating:
4 of 5 stars
This was a delight. Funny and original. A full review will follow.
Non-Review Posts on Reading Lark:
The reviews are linked to above but there was also
Waiting on Wednesday: Nevernight by Jay Kristoff
Book Events:
My 5 year old went to her very first book launch, attending the launch of the delightful series for emerging readers,
Ginger Green, Playdate Queen
by Kim Kane.
The Crazy Friend was her favourite.
Amy Tintera
David Levithan
Kim Falconer
Melina Marchetta
Nat Luurtsema
Nick Lake
Nina La Cour
Sophie Hardcastle
TJ Spade
Vanessa Garden
Related Posts